World
Harry and Meghan on first Scottish visit
The royal couple arrive at Edinburgh Castle at the start of a visit to Scotland's capital.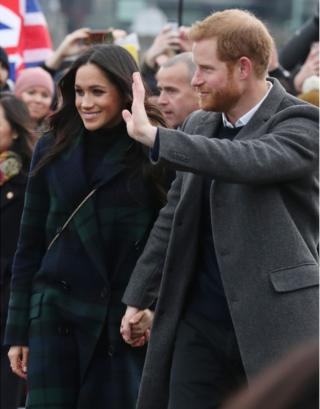 Prince Harry and Meghan Markle have visited Edinburgh Castle at the start of their first official joint appearance in Scotland.
The trip is part of their public engagements in the run-up to their wedding on 19 May.
The royal couple spent several minutes talking to people in the crowd as they arrived at the Esplanade in front of the castle.
They then attended the firing of the castle's famous One O'Clock Gun.
The visit is the fourth public appearance the couple have made together following their engagement in November.
It follows trips to Nottingham, Brixton in south London and Cardiff.
Royal fans braved wet and cold conditions to greet the prince and his bride-to-be at the start of their tour of the city.
Ms Markle wore a Burberry coat, with trousers by Veronica Beard.
She also carried a handbag made by Edinburgh firm Strathberry, the same make as the bag she wore on her first Royal engagement in Nottingham in December.
The couple paused on the Esplanade for a few minutes to shake hands and talk to people in the crowd.
One of the first well-wishers to arrive at the castle's esplanade was Sarah Coronado, 28, a masters student from Mexico studying at Edinburgh University.
She said: "Seeing the couple is a once-in-a-lifetime opportunity. We don't have these visits in Mexico or my hometown of Monterey.
"They are also the hot couple of the moment because of their marriage coming up.
"I also think Meghan is a role model, she's not just a pretty face. I think she's going to change the face of the monarchy."
At the castle, Harry and Ms Markle joined Sergeant Dave Beveridge, district gunner, Royal Artillery for the firing of the One O'Clock Gun.
They were given ear defenders before standing behind the gun which dates back to 1861.
The couple also chatted to cadets and took in views across the city, before briefly waving to the crowds as they departed.
Harry and Ms Markle then visited social enterprise cafe, Social Bite.
Social Bite distributes 100,000 items of food and hot drinks to homeless people across Scotland each year, as well as employing staff who have experienced homelessness themselves.
The couple are the latest in a string of high-profile visitors to Social Bite premises.
Hollywood star Leonardo DiCaprio stopped for lunch at Social Bite venture Home in Edinburgh's west end in November 2016 while the Duchess of Cornwall and George Clooney have been to Social Bite's Rose Street branch.
Prince Harry and Ms Markle will round off their visit by attending a reception at the Palace of Holyroodhouse to celebrate youth achievements marking Scotland's Year of Young People 2018.
Harry and Meghan will marry at St George's Chapel, Windsor Castle, at midday on 19 May.